ACKNOWLEDGEMENT FROM "PRELO" FOR THE CONSULATE GENERAL @ 13 September 2017 03:31 PM
---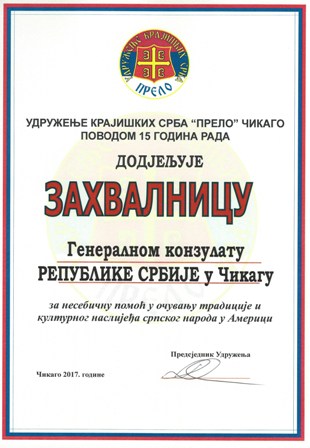 The Association of Krajina Serbs "Prelo" marked the fifteenth anniversary of the founding at a special celebration held in Chicago.
On behalf of the "Krajiško prelo", the president Duško Čučković addressed the guests and reminded them of the activities of the Association in the previous fifteen years. On that occasion, acknowledgements were given to individuals and organizations that supported the work of the Association. The acknowledgement was also given to the Consulate General for which Vice-Consul Milinko Spica gave thanks.
The association exists since 2002 and gathers persons who were expelled during the war of the 1990s from the territory of the Republic of Croatia. The activities of the association are directed towards the preservation and cultivation of the faith, language, culture and customs of the Serbian people.
---