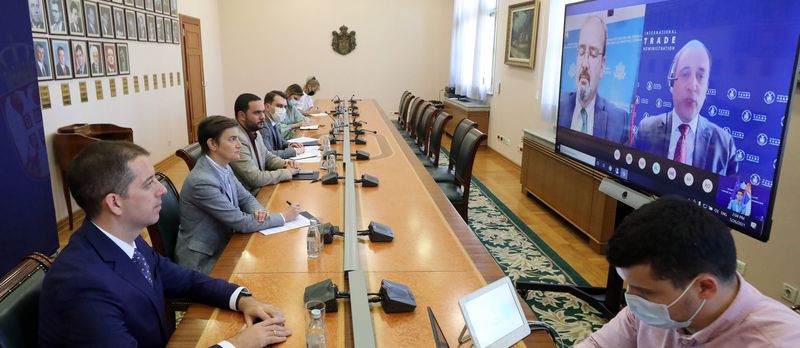 26 May 2021
Prime Minister Ana Brnabic talked today via video call with Deputy Assistant Secretary for Europe and Eurasia at the US Department of Commerce David de Falco about the improvement of bilateral economic cooperation, as well as cooperation with American companies and institutes in the field of energy diversification and renewable energy sources, digital economy, development and research.
Explaining that the development of an integrated national plan for energy and climate is of strategic importance for Serbia, the Prime Minister stated that legal frameworks have been created for a favourable business environment and opening the market for new investments in this area.
According to the US Deputy Assistant Secretary of Commerce, Serbia has proven to be a good investment market and one of the leading economies in the region.
It is necessary to strengthen economic cooperation in sectors where there are mutual benefits, De Falco explained, stating that American companies in Serbia operate with the same intensity in the current epidemiological conditions.
The digital economy and the IT sector are recognised as the bearers of future cooperation between Serbia and the United States, and significant project cooperation with American companies could be achieved in the digitalisation of the health care system in Serbia.
The Prime Minister mentioned the good results of the work of the company NCR, which has been operating in Serbia for many years, and pointed out that it is extremely important that investors like this are satisfied with doing business in Serbia and ready to cooperate with educational institutions, given that the economic reform is based on knowledge and innovation.
The meeting was attended by Serbian Ambassador to the US Marko Djuric and US Ambassador to Serbia Anthony Godfrey.
Source:www.srbija.gov.rs
Photo:www.srbija.gov.rs