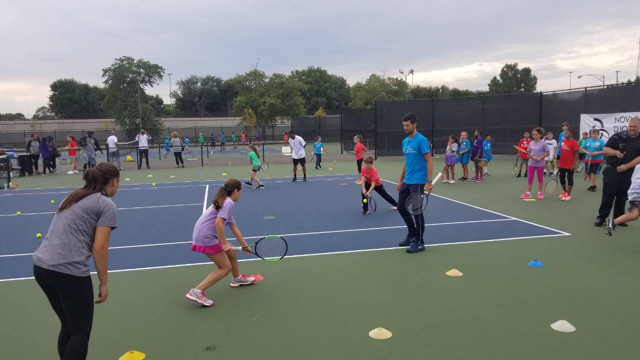 The best Serbian tennis player Novak Djokovic was in Chicago to participate in the exhibition tournament Laver Cup.
During his stay in Chicago, Novak Djokovic Foundation has organized a practice and socializing with over 60 Chicago children who play tennis. More than half of the children who participated were from the local Serbian community, including students of Serbian elementary schools "Sveti Sava" from Chicago and Milwaukee. Also, the Foundation has made it possible for over 40 children from the Serbian community to be present for one day at the tennis tournament. The assistance with the attendance of the children was provided by the Consulate General in cooperation with children's parents and Serbian schools.
At the invitation of the Novak Djokovic Foundation representatives of the Consulate General attended fundraiser conference titled "Breakfast with champions", which was held at the Ritz Carlton in Chicago with the participation of tennis players Novak Djokovic and Roger Federer as his guest.
Photo gallery can be seen here.