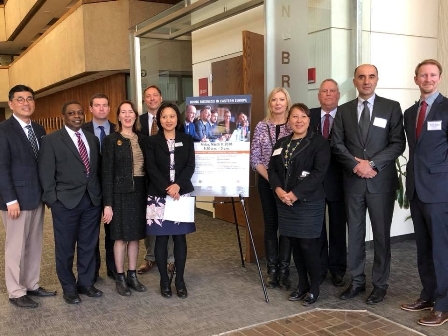 Economic opportunities and business in the Republic of Serbia were presented at the business forum "Doing Business in Eastern Europe". The Forum was organized by the College of Business at the Governors State University campus near Chicago.
Three countries - Poland, Bulgaria and Serbia - were presented at the Forum. Participants were the
representatives of the organizing Governors State University, from Boston's Northeastern University,
representatives of the US Department of Commerce, the US Small Business Agency, the International Trade Association of Greater Chicago and others.
Acting Consul General, Dejan Radulovic, held a presentation on the benefits of doing business and investing in Serbia. He introduced the participants to the current economic situation in Serbia, the undertaken macroeconomic measures, to the created business environment which makes Serbia one of the more attractive locations for investments. He pointed out all the advantages of doing business in Serbia, and especially the incentives for the financial support to investors. A five minute film "Why Invest in Serbia" by the Development Agency of Serbia was shown after the presentation.
The business attendees from the private and banking sectors had the opportunity to ask questions following the presentation by all three countries.
Photo gallery can be found here.