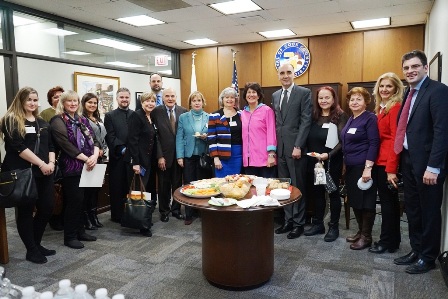 Treasurer of Cook County Maria Pappas hosted a reception for representatives of Serbian organizations, media and prominent individuals from the Serbian community in Chicago.
On that occasion, Treasurer Pappas introduced the attendees with the responsibilities of the Cook County Treasurer's Office and the measures taken in the modernization of work such as provision of electronic service. In particular, she highlighted the efforts which were made in order to obtain information and practical instructions from the Treasury's competence in Serbian language. At the same time, Treasurer Pappas thanked the Serbian community for the development of the city of Chicago, and gave seventeen certificates of thanks to Serbian organizations, media and individuals who contributed to the progress of the Serbian-American community in Chicago through their activities.
The reception was attended by the Acting Consul General, Dejan Radulovic, to whom the Treasurer Pappas presented a congratulatory message on the occasion of the Statehood Day of the Republic of Serbia.