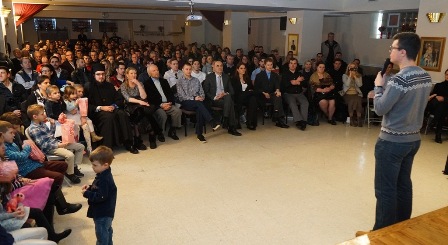 American premiere of documentary film "Kosovo - a Moment in Civilization" by Boris Malagurski was held in Chicago.
The documentary is a film that talks about the importance of protecting Serbian monasteries and churches in Kosovo and Metohija, as well as the need for the world public to get to know the truth about the threat to Serbian cultural heritage in Kosovo and Metohija.
The film was screened at the crowded hall of St. Stephen of Decani Church in Chicago. Prior to the screening, the audience was addressed by the church priest, Aleksandar Petrovic, followed by that of Boris Malagurski, who greeted by audience's ovation. Malagurski pointed out that the film was financially supported by the Office for Kosovo and Metohija and the Ministry of Foreign Affairs.
After the screening, Malagurski responded to questions from the audience.
The screening of the film was attended by Acting Consul General Dejan Radulovic on behalf of the Consulate General of Serbia. The screening was also attended by Vice-Consul Darija Bugarin from the Consulate General of Bosnia and Herzegovina in Chicago.
After Chicago screening the film will also be shown in other American cities: Miami, Washington, New York and Boston.
You can see the photo gallery here.