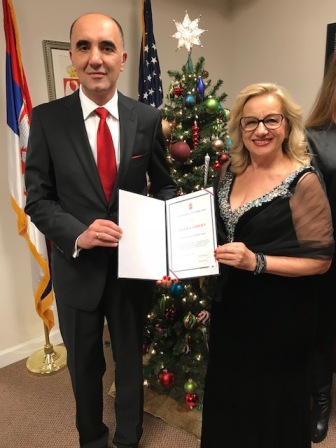 On the occasion of New Year's and Christmas holidays, the Consulate General held a traditional reception for representatives of the Diaspora. At the same time, the reception was dedicated to the Serbian Film Festival, which was held in Chicago from November 29th through December 3rd.
The reception was attended by representatives of Serbian organizations, church-school municipalities, associations, Serbian cultural institutions, representatives of Diaspora media and individuals from the Serbian community. Also, the guests of the Film Festival - actress Hristina Popović and Maša Dakić - attended the reception.
The attendees were addressed by Acting Consul General Dejan Radulovic, and on that occasion he thanked them for the cooperation in the past year and expressed his best wishes for the forthcoming holidays. He also emphasized the importance of the Film Festival in Chicago for the community and conveyed support to the organizer - "Serbian Mirror", the monthly newspaper of the Serbian Diaspora in the US.
On this occasion Slavica Petrovic from Chicago, founder of the Serbian Film Festival and the owner and chief editor of the "Serbian Mirror" newspaper, received the gratitude of the Consulate General for the many years of contribution in preserving the identity, language and culture of the Serbian community in the United States, its media information, strengthening the ties with and the affirmation of Serbian culture, especially in the field of film and theater arts.
Photo gallery from the reception can be seen here.