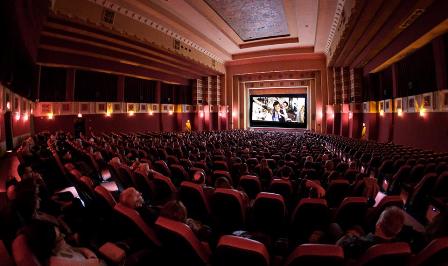 The Serbian Film Festival 2017 was held in Chicago from November 29 to December 3. This fifth edition of the Festival was dedicated to the great Serbian actor Ljubisa Samardzic. The guests of the Festival had the opportunity to sign the book of condolences that will be delivered to the Samardzic family. The documentary film "Panta Rei", which is the autobiographical story of Ljubisa Samardzic's acting career, was also shown at the festival.
"On the Milky Way", a film by famous Emir Kusturica, opened the film festival at the "Pickwick" cinema theater. Acting Consul General Dejan Radulovic attended the opening ceremony and addressed the audience emphasizing the importance and support of the Festival. The opening of the Festival and screening of Emir Kusturica's film was also attended by the representatives of the Consular Corps in Chicago, that is, the Consul Generals of several countries.
The festival also presented the following feature films: "A Blind Passenger on a Ship of Lunatics", "Requiem for Mrs. J", "Military Academy 3" and "Autumn Samurai". Documentary films "Promise" and "Wandering hearts".
The guests of the Festival were actresses Hristina Popovic, Masha Dakic and Maria Karan. At the closing ceremony, the actresses were presented with plaques for participation in the Festival. Also, on the third evening of the Festival, fans of the Serbian film were addressed by Rastko Jankovic, Acting Assistant to the Director of the Directorate for Diaspora at the Ministry of Foreign Affairs of the Republic of Serbia, who at that time expressed support for the Festival.
The founder and organizer of the Festival is "Serbian Mirror", the newspaper of the Serbian Diaspora.
Photo Gallery from the Festival can be viewed here.