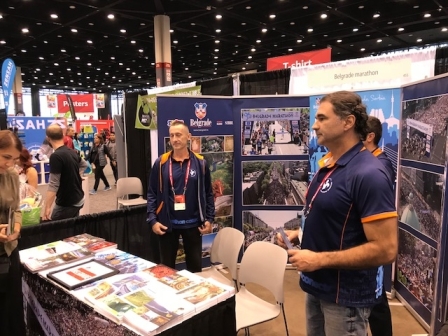 This year Belgrade Marathon was again the guest of the Marathon in Chicago (Bank of America Chicago Marathon). The Belgrade Marathon stand was opened at the McCormick Convention Center in Chicago. Representatives of the Belgrade Marathon and the Tourist Organization of Belgrade were present at the stand.
The Chicago Sister Cities International organization arranged the presentation of the marathon by the Chicago's nine sister cities (Athens, Belgrade, Birmingham, Hamburg, Mexico City, Osaka, Paris, Shanghai and Toronto).
Dejan Nikolic, Director of the Belgrade Marathon, participated in the ceremony. The ceremony was also attended by representatives of consulates general of marathoners from the sister cities. Representing Belgrade were Andreja Mladenovic, Deputy Mayor of Belgrade, Desko Nikitovic, Co-Chair of the Committee for Cooperation with Belgrade at the Chicago Sister Cities International and the Acting Consul General Dejan Radulović.
Director Dejan Nikolić expressed his satisfaction with the cooperation with the Chicago Marathon, and its importance for the Belgrade Marathon.
Photo gallery can be viewed here.