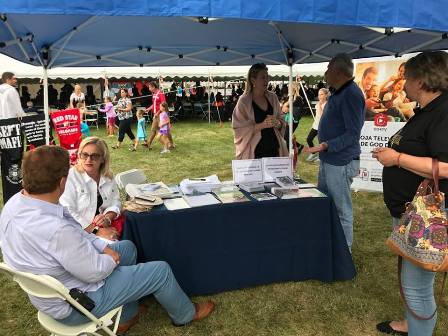 Consulate General had a booth at the event "SRBIJADA 2017" which was held September 1 - 3, 2017 in Chicago.
At the booth visitors of "Srbijada" had an opportunity to speak with the representatives of the Consulate General and to obtain answers to various questions regarding consular services: issuance of passports, obtaining the citizenship, registry of child's birth, registry of marriage, customs benefits etc.
At the booth visitors were also able to receive promotional tourist material, brochures about investments in Serbia and other printed material. All interested parties were welcome to add their names to the consular guest e-mail list.
"Srbijada" is the traditional event which began in 1993 and which assembles Serbian community from the whole North-American continent. It is a tournament of Serbian soccer clubs from the territories of US and Canada. Over 50 Serbian soccer clubs participated in this year's "Srbijada".
Host of "Srbijada 2017" was soccer club United Serbs from Chicago. Event was held at the property of the Humanitarian Organization Serbian Brothers' Help in Chicago vicinity. Over 10,000 guests attended this event.
You can access the photo gallery here.