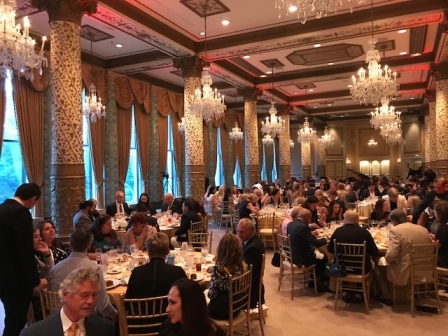 The fundraiser to help hospitals and health care institutions in Serbia was held at The Drake Hotel in Chicago. The organizer of the fundraising evening was the Humanitarian Organization Project C.U.R.E. (Commission on Urgent Relief and Equipment) from Denver, Colorado. It is an American humanitarian organization founded in 1987, one of the leaders in the collection of medical assistance for developing countries. This is the first time that Project C.U.R.E. organized a fundraiser for aid in Serbia.
Special guests of the evening were Crown Prince Alexander Karadjordjevic and Princess Katarina. Partner of this fundraiser was also Humanitarian Organization "Our Serbs - Наши Срби" from Chicago.
On behalf of the General Consulate, Acting Consul General Dejan Radulovic attended the fundraising event and thanked the organizers and especially Mr. Douglas Jackson, President of Project C.U.R.E.
The photo gallery from the event you can see here.