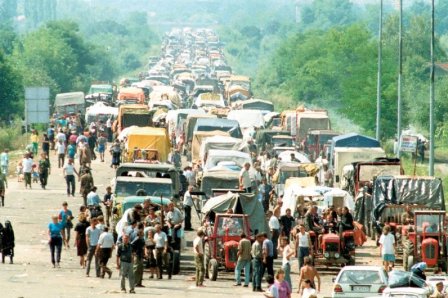 The Memorial Day for the exiled and suffering Serbs takes place in Serbia every August 5th. On this occasion, the Ambassador of the Republic of Serbia to the United States of America, Djerdj Matkovic, said: "It is difficult to find a sadder day in the recent Serbian history than August 5th 1995, when one of the greatest crimes against the Serbian people was committed, which cruel statistics about the slain and expelled persons speak about... Because of our past and our future, August 5th is the day that should become part of the collective memory - when we pay our deep respect to the victims." The text by Ambassador Matkovic, can be read in its entirety here (only in Serbian).
Memorial Day was also marked at commemorative gatherings in the United States. Such a gathering, organized by the Congress of Krajina Serbs, was held on Sunday, the 6th of August at the Holy Resurrection Serbian Orthodox Cathedral in Chicago. After the commemoration, appropriate program was held at the large church hall. Acting Consul General Dejan Radulovic spoke to the audience. Actors from the Serbian theater "Mira Sremcevic" in Chicago also participated in the program.
On the same day, commemoration for the slain Serbs was also held by the Association Krajiško Prelo at the Serbian Orthodox Church in Bellwood.