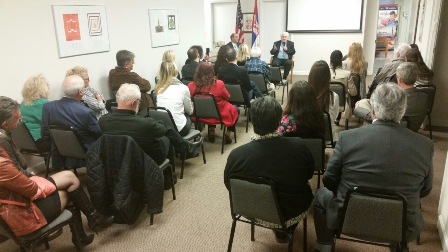 Consulate General presented an evening of caricatures and animated films by Zoran Jovanovic, a well known cartoonist and animator from Belgrade, whose name appears in the Anthology of the best cartoonists and illustrators as selected by the New York Times.
The best caricatures by Zoran Jovanovic, awarded at the international festivals, were on display including "General with crosses", which marked his professional career. Also presented during the evening were his animated films "Marxians", "Flags", "Antidogmin", "Libertas" and "Crazy Ship".
Acting Consul General introduced the guest who then spoke about the creative process, inspiration, influence of new technologies on the development of cartoons, engagement and experiences during his work and residence in New York. Guests had an opportunity to engage in question and answer session.
Jovanovic's creative achievements were presented at the festivals in Oberhausen, Montreal, Cracow, Sydney, Belgrade, Zagreb, London, Aspen. Retrospectives of his animated films were held at the cinema houses at Harvard, Tel Aviv, Jerusalem, Haifa; at cultural centers of Bombay, New Delhi and the Walt Disney Studio. His works are represented at the Museum of Modern Art (MOMA) in New York.
Gallery of photos can be found here.