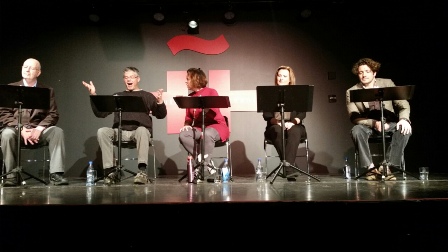 Dusan Kovacevic's play "Kumovi / Godfathers" was presented at the cultural center Cervantes in Chicago. The organizers of the presentation of this Serbian play are International Voices Project in collaboration with the Vitalist Theatre and the Consulate General of Serbia in Chicago.
The roles in the play were read by the Vitalist Theatre actors. The play was translated from Serbian into English language by Dennis Barnett, professor of dramaturgy from Iowa. This was the first presentation of the play "Kumovi/Godfathers" in English.
The play was presented at the Eighth Festival of the International Voices Project, which runs in Chicago from April 17 to May 18, 2017. This is the first time that the Festival has presented a Serbian playwright. In addition to Serbia theater plays presented as part of the Festival were from Spain, Ireland, Finland, Romania, Germany, India, Australia, Wales and Sweden.
Before the beginning of the program, present guests were addressed by Patrizia Lombardi Acerra, Executive Director of the International Voices Project and Acting Consul General Dejan Radulovic, who expressed thanks for the selection of Serbian playwright for the Festival and stressed the role and importance of Dusan Kovacevic in Serbian theater and cinematic arts. After the reading of the play questions of the audience were answered by professor Barnett and actors of the Vitalist Theatre.
The gallery of photographs is available here.