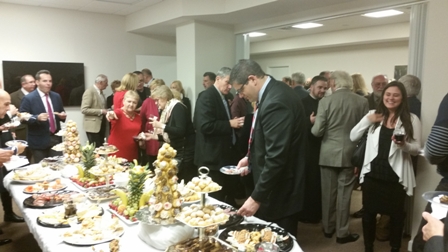 On the occasion of New Year and Božić holidays a reception was held for the representatives of Diaspora and local Serbian community at the Consulate General of Republic of Serbia. Reception was attended by the representatives of Serbian organizations, associations, Serbian cultural institutions, representatives from Diaspora media and prominent personalities of the Serbian community.
Acting Consul General Dejan Radulovic addressed the gathering and used this opportunity to thank them for the cooperation in the past year and to wish them happy upcoming holidays.
The reception was organized in cooperation with Air Serbia. On this occasion Djordje Petkovic, Regional Director of Air Serbia to North and South America addressed the audience.
Photo-gallery from the reception you can see here.
Consulate General wishes to take this opportunity to extend to all citizens of the Republic of Serbia and members of the Serbian community best wishes for happy upcoming New Year and Božić holidays.