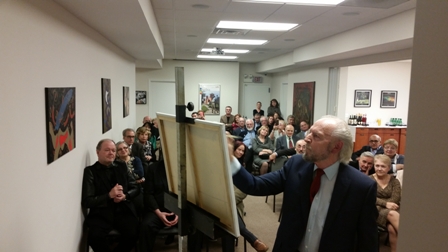 The Consulate General held an evening of art with renowned Serbian painter and poet Sava Rakocevic from Chicago.
In his guest introduction Acting Consul General Dejan Radulovic expressed the pleasure of the Consulate General which wanted in this way to express respect and recognition of artist Sava Rakocevic for his contribution to Serbian painting and national culture, and its affirmation in the world, especially in the US.
Sava Rakocevic spoke about his approach to painting, about spiritual inspirations, perspective, color. He also demonstrated the technique of painting on canvas and also had an interactive communication with the audience. Vesna Zafirovski, member of the Serbian Theatre in Chicago, read verses of the poet Rakocevic. Artist's paintings were also exhibited on the premises of the Consulate General. All the seats were filled to capacity. Among those present were a significant number of admirers of Sava Rakocevic and his art. Bishop Longin was also among those present.
Sava Rakocevic resides in the United States, in Chicago since 1966. In addition to those in the US and Serbia the audiences in many other countries had the opportunity to see his works of art. He had many solo and group exhibitions including the Exhibition of American Painting at the Palace of Congress in Paris in 1975 on the occasion of the 200th anniversary of US statehood. Significant exhibitions in Belgrade were retrospective exhibition at the National Museum in 1992 and the exhibition of paintings and drawings by the Serbian Academy of Sciences and Arts in 2009. He received numerous honors and awards including the Vuk Award for special contribution to the national culture of Serbia in 2007.
Gallery of photos can be found here.