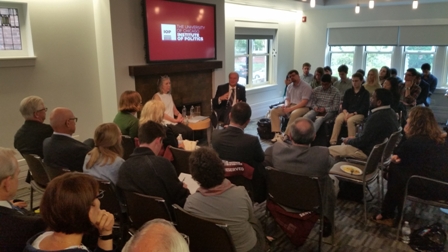 Ambassador of the Republic of Serbia Djerdj Matkovic was a guest of the Institute for Politics at the University of Chicago and delivered a lecture on Serbia, its integration path towards the European Union, as well as the bilateral relations between the Republic of Serbia and the United States.
Ambassador Matkovic pointed out that the full membership in the European Union is a strategic goal of Serbia and he expressed his appreciation for the United States' significant support of Serbia on her European path. Ambassador Matkovic said that the bilateral relations with the United States are on an upward trajectory, that they are constantly improving, and that there are good prerequisites for their further improvement in the political, economic and other planes.
Following the lecture, Ambassador Matkovic answered questions from students and guests present.
Ambassador Matkovic's lecture was organized by the Consulate General in cooperation with the Institute for Politics at the University of Chicago. Co-sponsors were the Center for Eastern European and Russian-Eurasian Studies, the Center for Middle Eastern Studies and International House of the University of Chicago.