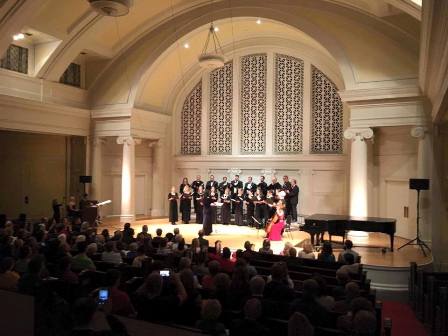 Serbian Academy "Sveti Sava" in Chicago celebrated the 15th anniversary since its founding.
On this occasion, a festive concert was held on October 1, 2016 at the Nichols Concert Hall in Evanston with the following participants: Maja Bogdanović, cellist from Paris; mezzo-soprano Olga Bojović and pianist Kristijan Civljak, Chicago; string quartet of the School for music talents from Cuprija, Serbia; chorus "Branko Radičević" and students of the "Saint Sava" Academy.
Celebration of the Academy's anniversary continued on October 2, 2016 with the Liturgy at the Orthodox Cathedral "Holy Resurrection of Christ" in Chicago followed by a festive ceremony at the church hall. The audience was addressed by Ambassador of the Republic of Serbia Djerdj Matkovic who congratulated the 15th anniversary and spoke about the importance of the Serbian school in Chicago. Ambassador Matkovic also conveyed congratulations and support to the school of the Minister of Education of the Republic of Serbia Mladen Šarčević.
Acting Consul General Dejan Radulović presented the Certificate of Appreciation from the Consulate General for the Academy's significant contribution in education of younger generations, preservation of language, culture, history and religion of the Serbian people.
Within the festivities a cultural program was performed with the participation of students of the Academy "Saint Sava" and ethno-group "Trag" (Trace) from Banja Luka.
Gallery of photos can be found here.