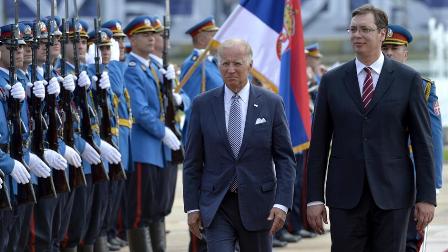 US Vice President Joseph Biden made an official visit to the Republic of Serbia and on that occasion met the President of the Republic of Serbia Tomislav Nikolic and Prime Minister of the Republic of Serbia Aleksandar Vucic.
"Our bilateral relations are developing wonderfully and we share common values. We were allies in two World Wars and share the world's greatest two scientists, Tesla and Pupin so that this is an important junction point, " President Nikolic said.
Vice President Joseph Biden stressed that the US has a strong interest that Serbia achieves political and economic success, adding that he will encourage new foreign investments in Serbia.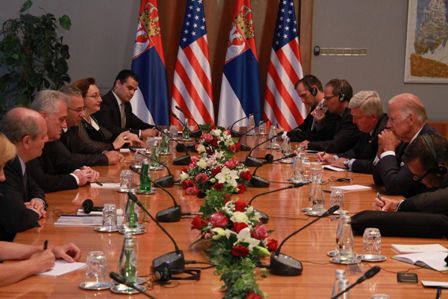 Prime Minister Vucic said that he discussed bilateral relations between the two countries with US Vice President, about the dialogue between Belgrade and Pristina and possible progress in the future, as well as regional relations and Serbia's European path. Prime Minister Vucic said that the bilateral relations between the US and Serbia are on the upswing and expressed gratitude to the US for its support of Serbia's European path.
Vice President Biden stressed that Serbia is a key political and economic cornerstone for the whole region and that the Serbian leadership is extremely important for this part of Europe. Some moments of our common history were extremely painful, recalled the Vice President of the US and added that he was happy that a new chapter has opened in the relations between the two countries. Vice President Biden has paid condolences to all the families who lost their loved ones in the NATO campaign.
During Vice President Biden's visit to Belgrade a bilateral agreement on extradition was signed between Serbia and the United States.