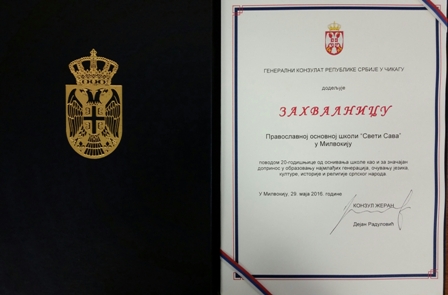 Serbian elementary school "Sveti Sava" in Milwaukee celebrated the 20th anniversary of the establishment of the first Serbian Orthodox School in the United States.
Following the liturgy at the Orthodox Church "Sveti Sava" a solemn academy was held on the occasion of this significant anniversary of the school.
The audience was addressed by Acting Consul General Dejan Radulovic, who congratulated the 20th anniversary of the founding of the school and on the occasion presented a letter of thanks by the Consulate General for a significant contribution to the education of younger generations, preservation of the language, culture, history and religion of the Serbian people.
The First Secretary of the Embassy of Bosnia and Herzegovina in Washington, DC Marinko Avramovic and a representative of the city of Milwaukee Mark Borkowski also extended their congratulations in their address.