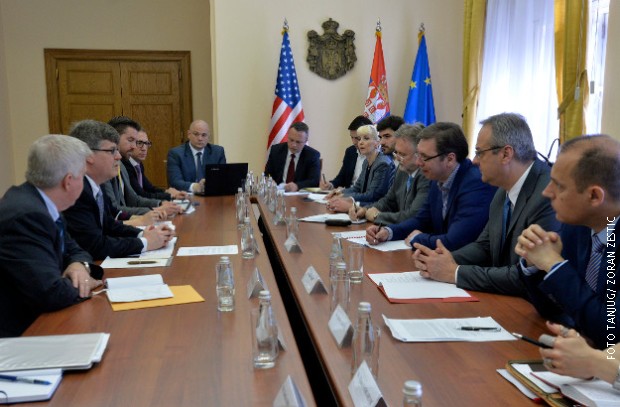 Prime Minister Aleksandar Vucic and Executive Director for European and Eurasian Affairs at the US Department of Commerce Skip Jones pointed during the talks in Belgrade on April 6, 2016 to the importance of strengthening the Serbian-American partnership for the sake of maintaining stability and progress in the region.
The Prime Minister Vucic informed the US delegation about the good results of the fiscal consolidation and other economic measures which Serbia is taking in order to improve business environment in the country. He said that the opening of a direct flight between Belgrade and New York by "Air Serbia" will facilitate contacts of business people and thus significantly contribute to the strengthening of economic ties between Serbia and the United States. The Prime Minister said that he expects greater presence of US investors, which would mean the transfer of work habits and entrepreneurial spirit onto Serbian workers.
Jones gave the Prime Minister the "Roadmap" - a strategy of development of economic relations between Serbia and the United States. The "Roadmap" emphasizes that need for strengthening trade and other economic ties between the two countries due to the importance of the Serbian-American partnership for the stability and prosperity of the region.The American side believes that conditions for foreign investors have been significantly improved in Serbia and that is the reason why more and more companies from the United States are considering the possibility of investing. The United States is therefore ready to work together with the Serbian government to encourage mutual trade and investments in the fields of IT, energy, infrastructure, manufacturing of parts for the automotive industry, as well as health care. This also entails the expansion of operations of US companies that are already present on the Serbian market, Jones concluded.