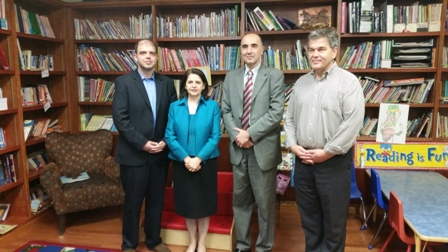 Acting Consul General Dejan Radulovic visited the primary school "Hellenic American Academy Socrates" in Deerfield, a suburb of Chicago. The reason for the visit to the school is that since it's founding in 2004 by the local Greek Orthodox Church, the school has had a program of teaching the Serbian language. In fact, this school has worked before, that is as part of the Serbian parochial school at the Episcopal Church of the Holy Resurrection in Chicago.
The school director Voula Sellountos and Serbian language teacher Vlada Rokvić introduced Acting Consul General with the history of the school, learning development and teaching program, especially that of the Serbian language.
Acting Consul General expressed his gratitude and support stressing the importance of the existence of a school program for Serbian, not only for the study of the language, and also for the good cooperation and friendly relations between the local Greek and Serbian communities.