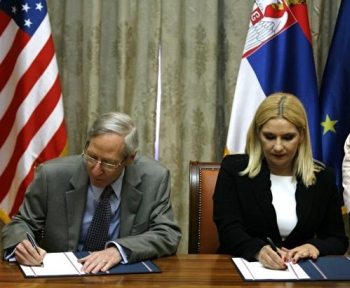 Serbian Deputy Prime Minister and Minister of Construction, Transport and Infrastructure Zorana Mihajlovic and US Ambassador to Serbia Michael Kirby signed the Agreement on Air Transport between the governments of Serbia and the United States.
Mihajlovic said after the signing of the agreement that all technical requirements for direct flights between Serbia and the United States have been met, and expressed hope that they will start as soon as possible. She said that the US Federal Aviation Administration ranked Serbia in the category of the first order, which in aviation means that the country is safe and that it can apply for direct flights. The establishment of direct flights after 23 years will have great significance for the further economic development of Serbia, Mihajlovic assessed and reiterated that our country is ready as far as technical conditions are concerned.
The next step are talks between air authorities which will decide when to establish direct flights.
Ambassador Kirby expressed the hope that this will be done in the near future, probably in a few months, noting that it largely depends on the companies that are to operate flights.