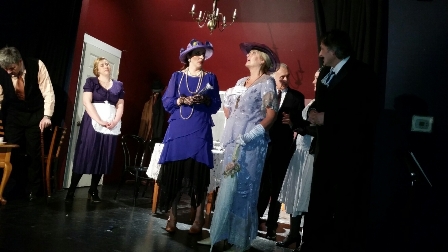 Serbian Amateur Theatre "Mira Sremčević" celebrated the 10th anniversary since its founding, at the Serbian-American Museum St. Sava in Chicago.
On this occasion, on the museum's stage, they performed the comedy "Vlast" (Power) by Branislav Nušić. This play was the first one performed by the theater and it was staged in February of 2005.
In a sold-out theater, before the play began, the audience was addressed by the art director, Mrs. Ankica Ratarac, one of the founders of the Serbian Theatre in Chicago.
In the past ten years, the theatre repertory performed twenty plays, including "Žanka", "Тhe Professional", "Immigrants", "Mrs. Minister," "Larry Thompson - Tragedy of a Youth", "Canary soup", "Small Serbian comedy", "Stardust", "Koštana", " Seducer" and others.
Amateur Theatrе "Mira Sremčević" is the only Serbian theatre in the US. The theatre bears the name of late Mira Sremčević, founder of the Serbian Theatre in Chicago, former member of amateur theatres in Serbia.