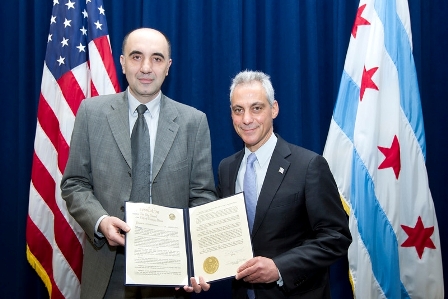 Chicago City Council adopted the Resolution commemorating the tenth anniversary of the sister cities relationship between Chicago and Belgrade. Chicago Mayor Rahm Emanuel awarded the Resolution to Acting Consul General Dejan Radulovic with a request that it be submitted to Sinisa Mali, the Mayor of Belgrade.
The Resolution expresses the willingness of the city of Chicago to further develop and strengthen fraternal relations with Belgrade. City of Chicago is proud of the partnership with the city of Belgrade, as well as the long history of friendship and cooperation with the people of Serbia, says in the Resolution. Particularly noteworthy is the long-standing presence of the Serbian community in Chicago and its contribution to the cultural and economic development of the city. The context expressed an appreciation for Nikola Tesla, a son of Serbian Orthodox priest, whose inventions enabled illumination of the Chicago's historic World Exhibition in 1893.
Read more here (in Serbian).